Planning your first cruise is always exciting, but it can be difficult to know what to expect. From packing to embarkation day and exploring new ports, there's a lot to consider when preparing for a cruise vacation.
In order to make sure you have the best cruise possible, you'll want to avoid the common pitfalls and mistakes many newbie cruisers make. Even a small mistake can have a negative impact on the enjoyment of your cruise, and you'll want to avoid making decisions that can ultimately ruin your time onboard.
Here are the top 20 worst cruise ship mistakes that will ruin your cruise vacation.
Packing important items in your checked luggage
When you arrive at the cruise terminal on embarkation day, you have the option to check in your luggage with porters. Most passengers opt to do this to avoid the hassle of lugging their suitcases around the ship on embarkation day.
Before handing off your suitcases to the porters, double check to make sure you have everything you'll need to embark the ship in your carry-on bag.
Related: The Ultimate Cruise Packing List
It's important to keep identification, medication, items for your kids, etc. in your carry-on bag to ensure they're handy on embarkation day.
Bringing the wrong documentation
One of the top ways to ruin a cruise is by being denied boarding in the first place! Before you book a cruise, make sure to review which necessary documentation is required for your sailing.
Related: Do you need a passport for a cruise?
Necessary documentation for your cruise depends on your citizenship, residency, and from where in the world you are embarking a cruise ship. Review Royal Caribbean's official policy on necessary identification here to ensure you have the proper documentation for your cruise.
Having an expired passport
In addition to having proper documentation for a cruise, make sure it will be valid at the time of travel. You don't want to realize your passport expired as you're packing for the cruise!
You must ensure your passport is valid for at least 6 months after your cruise. If your cruise is in June but your passport expires in July, you may be denied boarding.
Be aware of when your passport (or driver's license) expires and plan accordingly if it will expire before the cruise. Passport renewals can take several weeks, so it's important to plan ahead to ensure you don't miss your cruise.
Not researching anything in port
We don't recommend "winging it" when it comes to visiting a new cruise port. With limited time in each destination, you'll want to make the most of your time and have the best experience possible.
While you don't have to plan your port day down to the minute, knowing the basics of what your port has to offer can help you plan the perfect day.
Related: Best shore excursion in every Caribbean cruise port
Research the port's top attractions, culture, food, and language. It's better to be knowledgeable about what you can do in port so you don't regret not experiencing something in the destination later on.
Not putting your phone in airplane mode
One of the most expensive mistakes you can make on a Royal Caribbean cruise is forgetting to put your cell phone in airplane mode. Leaving your phone's data on can lead to expensive international roaming charges, and no one wants to be surprised with a huge bill.
Cell service on cruise ships is not covered even if you have a phone plan with international coverage. Therefore, regardless of your phone provider or where in the world you are cruising, always make sure to put your phone on airplane mode when your ship is sailing.
Booking a flight the same day your cruise begins
One piece of advice we give over and over again is to arrive in your embarkation port the day before your cruise.
Booking a flight that arrives the same day of your cruise is risky. Weather delays, technical issues, and unexpected mishaps can easily cause you to miss the ship. Booking a flight that arrives the day before your cruise provides extra wiggle room in case of any travel issues.
Airline travel has always been unpredictable, so be sure to plan for extra travel time.
Booking flights too early on disembarkation day
Just like traveling to your cruise port, you'll want to plan wiggle room for any delays you might encounter on disembarkation day.
Most cruise ships return to port around 6AM on disembarkation day. This does not mean, however, that you are able to disembark the ship at 6AM.
Disembarkation usually starts around 7AM, with most guests off the ship by 9:30AM. Disembarkation, travel to the airport, checking bags, and going through security can take a few hours, especially if the port is far from the airport.
We don't recommend booking a flight before 12PM, although it's important to research travel times from your cruise port to the airport. Some airports, like Fort Lauderdale, are located just a few minutes from the cruise terminal whereas others require more travel time.
Picking the cheapest cruise you see
Everyone loves finding a good deal, but don't book a cruise based solely on price. Booking a cruise based on price ignores other important factors like ship size, itinerary, activity options, and stateroom choices.
Related: Why you shouldn't book the cheapest cruise you can find
Before you book the cheapest cruise you can find, be sure to consider these factors. You don't want to book a cheap cruise only to realize the itinerary isn't what you wanted or that there are limited activities for kids onboard.
Do research before booking to make sure your cruise vacation is as amazing as possible.
Picking the wrong ship
Royal Caribbean cruise ships may all offer a classic Royal Caribbean experience, but amenities, size, and activity options vary widely. Although you can have an excellent cruise on any ship, you might prefer one style of cruising over another.
If you're traveling with kids, for example, you might want to consider a ship with an abundance of family-friendly activities. Voyager, Freedom, Quantum, and Oasis Class ships have activities like waterslides, Splashaway Bay, a FlowRider, zip line, and ice skating.
Related: 8 questions to ask yourself before picking a cruise ship
If your main goal is to visit exotic ports, you'll want to look for a cruise on a smaller ship. Royal Caribbean deploys its older, smaller cruise ships on more unique itineraries to places like Fiji, the Panama Canal, and Croatia.
The more research you do on Royal Caribbean ships before booking your cruise will help avoid any disappointment upon boarding.
Not packing sunscreen
No one likes getting sunburned, and a bad burn can severely impact the enjoyment of your cruise vacation.
If you're cruising to a warm destination, you'll probably be spending much more time in the sun than you're used to. Whether lounging on the beach or sightseeing in a city, it's important to apply and reapply sunscreen throughout the day.
Booking shore excursions in every port
If you're new to cruising, you might assume you should book shore excursions in every port you visit, but this isn't necessarily the case.
While shore excursions can offer a stress-free way to see the top sights of any port, they come with several drawbacks. Large tour groups, little time spent in each destination, and a higher price than exploring independently are just some of the cons of booking a shore excursion.
Many ports can be easily explored without an organized tour. Plenty of passengers prefer disembarking the ship and spending their day exactly how they want to spend it. Whether that means taking a taxi to a local beach or shopping downtown, there are many ways to spend time in port without an excursion.
If you're debating between booking an excursion or exploring on your own, these tips should help you make a decision:
Getting upset about itinerary changes
Itinerary changes are possible on a cruise, so it's important to understand that the cruise you originally planned for may encounter changes.
Changes can occur due to weather, port restrictions, medical emergencies, unrest in a port of call, etc. Therefore, it's extremely important to be flexible with any itinerary changes.
Instead of declaring your cruise "ruined" due to an itinerary change, view the change with excitement instead of anger. If you will be visiting a new destination, research the best things to do in port, local cuisine, and culture. If your port stop was replaced with a sea day, plan something special for the extra time onboard, such as visiting the spa or reserving dinner at a specialty restaurant.
As with everything in life, changes can happen unexpectedly, but you shouldn't let an itinerary change ruin your cruise.
Being rude to crew members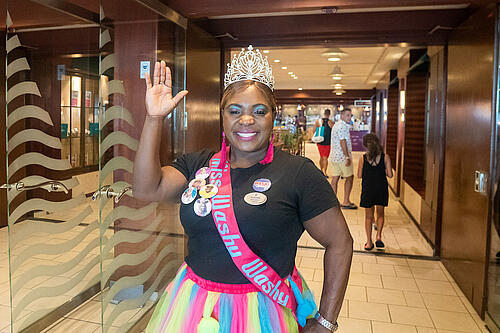 Royal Caribbean's crew members work extremely hard on their multi-month contracts. Most crew work 7 days a week while still maintaining a positive attitude and helping guests in every way they can.
While most ship operations run smoothly, there's always a chance something will go astray. If your dining room waiter accidentally brings you the wrong appetizer or a bartender charges for the wrong drink, approach the situation politely.
Being rude and yelling at crew members is never a nice way to go about your cruise vacation. If something bothers, you can calmly ask a crew member to resolve the problem.
Missing the cruise ship
A sure-fire way to ruin any cruise vacation is by missing your cruise ship and being left behind in port. Whether you arrived late on embarkation day or lost track of time at the beach in Mexico, missing the ship is an unfortunate scenario.
Related: What happens if you miss your cruise ship?
Missing your ship is, more often than not, an expensive and time-consuming ordeal, especially if you're traveling without a passport.
Visits to the US embassy for emergency identification documents and last-minute airline prices are not ideal. Be sure to keep track of time when in port to ensure your cruise ship doesn't leave without you.
Not purchasing travel insurance
Another way to ruin your cruise vacation is by not purchasing travel insurance.
Traveling can lead to many surprises, from canceled flights to emergency doctor visits. Having travel insurance ensures you are financially covered in the most unpredictable situations.
Related: Should you buy annual travel insurance plans?
In fact, Royal Caribbean's onboard medical services are not covered under most insurance plans that work at home. Travel insurance, on the other hand, should cover any medical services you may require once onboard.
Not leaving clothes out for disembarkation day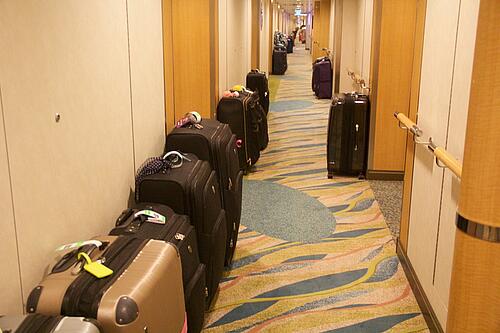 Before you put luggage outside your stateroom door the night before disembarkation, be sure to leave clothes to wear the following morning.
The night before disembarkation, you can opt to place luggage in the hallway which will be transported to the cruise terminal for pick up the next morning. Although this is a hassle-free way of moving your luggage from place to place, be sure to leave daytime clothes for disembarkation day.
You don't want to disembark the ship in your pajamas!
Forgetting medicine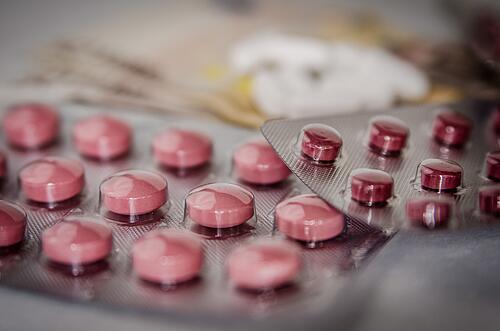 One of, if not the most important thing to pack for a cruise is any prescription medication you require. Check and double check to make sure all necessary medication is in your carry-on bag before leaving for a cruise.
While you'll find pharmacy options in port and in the ship's medical center, there's no guarantee your specific medication and brand will be stocked.
It's a good idea to pack over-the-counter medications with you as well, such as motion-sickness medication, ibuprofen, anti-nausea tablets, etc.
Selecting the wrong cabin type
One sure-fire way to negatively impact your cruise vacation is by selecting the wrong cabin type or location.
Before booking the cheapest or first cabin you see, consider what you're looking for in a cruise vacation.
If you plan to spend the whole day outside of your cabin, an inside room can be a budget-friendly option. If you'd rather enjoy the privacy of a balcony, however, consider booking a higher category room.
Related: Guide to balcony staterooms on Royal Caribbean
Your cabin location is another important factor to consider before booking a cruise. Some cabins may be more prone to movement than others, whereas some are located closer to certain venues onboard.
Before picking a cruise ship cabin location, be sure to read our guide on the best cabins on a cruise ship.
Arguing with other passengers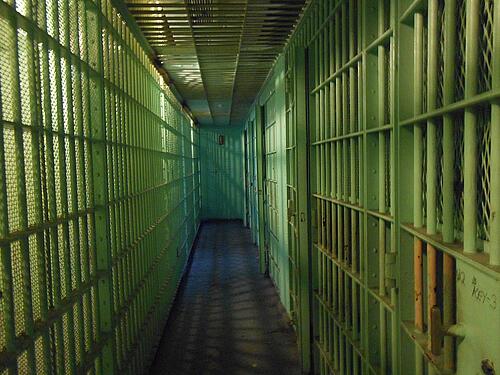 Did you know every Royal Caribbean cruise ship has a jail onboard? Make sure you don't end up there.
With thousands of passengers on any cruise ship, arguments and conflict can occasionally occur.
Just like in any land-based setting, it's best to avoid conversations about politics and controversial topics with fellow passengers. Be courteous of those around you on a cruise and you'll avoid any major issues.
Not checking your bill at the end of the cruise
Every purchase you make onboard is charged to your SeaPass card. You can check your account balance throughout the cruise via the Royal Caribbean app, and we recommend looking at the balance periodically to check for any errors.
You may occasionally encounter an incorrect charge, and it's always better to catch this mistake while onboard instead of at home. If you don't check your invoice until the cruise ends, you'll have to call Royal Caribbean and wait on hold. It's much easier to go to Guest Services while onboard to take care of any billing issues.
More cruise tips & tricks: